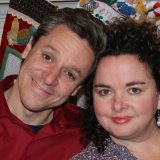 Because many have inquired about the author, I've provided a short bio here.
My name is Terry Stanley. My wife and I live in Houston, TX. We have four wonderful children. I am a high school tennis coach and an accounting teacher. My wife Nanci is a licensed midwife.
We began meeting in homes with other Christians in the late 1980's. I was not raised in traditional church, so as soon as I was saved in 1987, I had very few pre-conceived ideas of what church should be like. I had no baggage or religious training or church legalisms to undo like many Christians currently have. The New Testament was very fresh to me the first time I read it in 1987. All I wanted to do was to get together with other Christians and talk about Jesus, read the Bible, pray, and be accountable. I didn't want to do this just on Sundays, but all the time! I read in the book of Acts that the New Testament church did the same thing. I thought it was amazing that my desires and experiences were the same desires and experiences with people who lived a couple of thousand of years ago!
When I would attend traditional church services, the whole thing seemed like a dog and pony show to me. The preachers came across like used car salesmen. Although there were great people in those meetings and there were some great things being taught, the entire experience just didn't match the authenticity, the sincerity, and the raw gut level honesty of what I read in the Bible.
Within a year after my conversion, during college I discovered a house church network of people who met outside of the traditional setting. It was weird how I met them too. I'd never even heard of house church before, but God brought a brother into my life who invited me to a house church meeting. This large network of families were all meeting house to house, many times a week for meals, prayer, and Bible study. They were sharing life together and being real with one another. I'd never seen such sincerity before and people just being themselves and loving God. I discovered people who, just like myself, saw Jesus and the church as their WHOLE life and not just a part of their life. That was in Waco, TX in 1988. I was attending Baylor University at the time. The older brothers in that group took me in and discipled and trained me in the ways of Jesus and His church for many years.
The original Waco group has since disbanded. After Waco, my wife and I continued to experience New Testament church life in Bryan, TX for 15 years. We then moved to Houston, TX in 2008 and  we continue to meet in homes and share life with multiple families.
Our lives are rich and full with meaningful and deep relationships. Having these kinds of relationships does not come easy. It takes time and it takes love. It is hard work to continually love and invest in people's lives, which sometimes brings about great pain and suffering, but it is all worth it.
If you are in the Houston area, feel free to stop in for a visit. You can also visit our website provided for people in the Houston area at homechurchhouston.com
-Terry Stanley