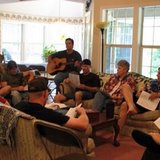 Why Home Church?
Home Church provides a simple and wonderful alternative to attending traditional church. The churches in the New Testament were home churches. Throughout the centuries, many people have met in homes. There are millions of people having church in homes today, but you rarely hear of them because they are not advertised or high profile. There are many reasons to have church in homes. Here are a few of the primary reasons:
1. Home church is Biblical.
2. The essence of Christianity is easily accomplished in simple and uncomplicated settings.
3. Group participation with all people functioning should be the primary dynamic of any church meeting (1 Cor. Chapter 14), This is the backbone of the home church setting.
4. Connecting with others and developing meaningful relationships is easily accomplished in a home church atmosphere.
5. "Being the church" and sharing life together in community with others, instead of just attending a meeting, is the desire and purpose of most people who home church.
The challenge to people who want to participate in home church is to be able to "undo" what they've been taught church is really all about. Prayer, worship, reading scripture, outreach, encouraging one another, and sharing life together in real and meaningful ways are all part of the home church experience.
What this site is all about
This web site is provided to help those who are wanting more out of Christianity. It has been authored by people who are experienced in home church and who have been active participants in home church for over 20 years now. There are many articles, a blog, links, and books available to help you. Be blessed as you read and learn.
We would really appreciate it if you could post something in the comments for this site. We are really interested to know your comments and where you are from. If you post to the blog, then you will be joining conversations with other people who are interested in home church like yourself. Thanks so much for your feedback.
Book Offers
We would like to say loud and clear that we are not trying to make money by selling books. Most of the chapters are posted here on the website. But we do want people to order books so they will be passed around. We feel that if people have the information in book form, many more people will eventually read the material.
A Glimpse of a Home Church Fellowship: No Duty, Only Desire.
by Brittany McCardle www.thegentlehome.com
A sliver of moon low in the sky. A little house with green floors sitting in an open green field. Windows alight against an expanse of black sky. Stars twinkling overhead. An invitation to come- come experience the Body of Christ.   A group of people come together: Young people, old people, children, babies; Familiar faces and new ones pour into this house filled with love.   Empty tin dishes once filled with piles of warm food for a hungry crowd. Hearts and stomachs full from feasting together. These aren't just the people I worship God with, they are family. Babies crawling underfoot. Knowing smiles passed across the room.   Guitars played by experienced fingers; Heart strings plucked, tuned to praise. We're all here for one reason: we love Jesus. This isn't going to church- we are The Church.   Bibles and hearts opened to receive whatever He may have for us. A Saturday night spent in waiting adoration for the One who saved us all. A bottle of wine sitting on a table. A cracker laid out on a kitchen island. Plastic cups passed around the room. Crumbs on the floor. Blessed communion.   This is holy ground. In our everyday ordinary, we are sacred. There is nothing fancy here. No fancy clothes. No fancy music. No fancy lighting. The air is warm with the presence of bodies.   Children gather around the patio in the dark to hear a Bible story. Patio lights shine on their shining faces, receiving the word of God. No schedules, no volunteers, just hearts willing to serve the Body of Christ- Even its smallest members.   As I walk across the damp lawn in late evening hours, moon overhead, Bright lights in the windows calling out to anyone who might see, "Come inside,"   And my heart is so full I can barely breathe. Worshiping Jesus, fellowship with my many brothers and sisters, receiving the word of God, It is always filling, never taking; inviting, never demanding.   This is not a church, it is The Church, just one part of the much larger Body of Christ. And it is so good. I wonder, how many others are tired? How many others think worship is just a song you sing?   How many others need to leave their fancy clothes behind and just come as they are? How many others need to leave "church" to experience Jesus? As I wonder, I am still so grateful because I am here, and I needed Just as so many do, to give up the obligation of duty And just to come, experience Jesus, experience His Body, The Church.